See on Scoop.it - Silent Inspiration…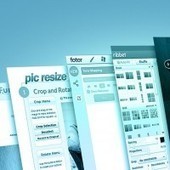 Adobe's Photoshop is the gold standard when it comes to photo-editing software – the preferred tool for many graphic designers and photographers. But many of the complex features that once only a Photoshop pro could do, can now be achieved using basic, free software that comes with your computer or downloaded from the Web. Think cropping, resizing, color adjustments, filters, red-eye removal, and automatic enhancements.
In fact, a lot of useful photo-editing features are built into online photo-sharing sites like Google+ and Flickr. However, what if you want to quickly apply one or two effects without having to become a Photoshop guru? We've found and tested a few online alternatives that won't require you to fire up any photo-editing apps….
Winnie Peric's insight:
Free Alternatives are always good… 
See on m.digitaltrends.com